Working Here
We're at the cutting edge of digital services. This means we need the sharpest minds around to keep us there. So you can count on us to hone your talent, guide your career path and shape your future.
Keep on moving
The thing about working with technology is: nothing stands still for long. Even the most inspired of today's innovations eventually becomes yesterday's news. There will always be unchartered territory to explore. Why? Because that's what our clients demand of us. It's also our reason for being. The new, the novel, the untried and untested are what we're all about. A milestone may be reached but the journey is never ending. This is why you should be part of it.
Training & development
State-of-the-art global programs designed to help you make the best of yourself. That's our offer to you in terms of development. Because shaping, encouraging and nurturing talent is a core part of our strategy. We can't afford for our business to stand still; so we need you to evolve to help drive it forward. Whoever you are, whatever your level of experience, expect to be invested in, expect to be developed, expect to be more and do more.
Gold For Managers
Gold for Managers is an award-winning program which helps our management-tier people progress and enhance their capabilities. This is delivered in partnership with the prestigious Hautes Etudes Commerciales (HEC) Paris.
Juniors Group
The development of new talent is catered for by our Juniors Group. Designed to unlock the potential of people across our organisation, we've collaborated with Franklin Covey to make this an industry-leading program.
Gold for experts
We're firm believers that our people should never stop learning. Our Gold for Experts program, created in conjunction with the University of Cambridge and Paderborn University, has this ethos imbedded at its core. Deepening insight and enhance knowledge, it transforms experts across our business into thought leader in their fields.
eLearning
Atos has a comprehensive eLearning program that ranges from technical and IT courses to business and management training. Courses are supported by qualified mentors and reference materials are available 24/7.
Onwards and upwards
See where your career could go at Atos.
Wellbeing@work
Developing a world class workplace
When it comes to rewards, we want to exceed your expectations, reflect your contribution to our business and enhance your quality of life.
As far as the basics are concerned, everyone that works for us can look forward to a competitive base salary; performance-related pay; comprehensive benefits (including pensions and insurance; share-based plan; and flexible working hours).
The extras come in the form of our wellbeing@work initiative. Launched by our Chairman and CEO, Thierry Breton, its objective is to bring the benefits of digital transformation home to our people. These are the headline results so far: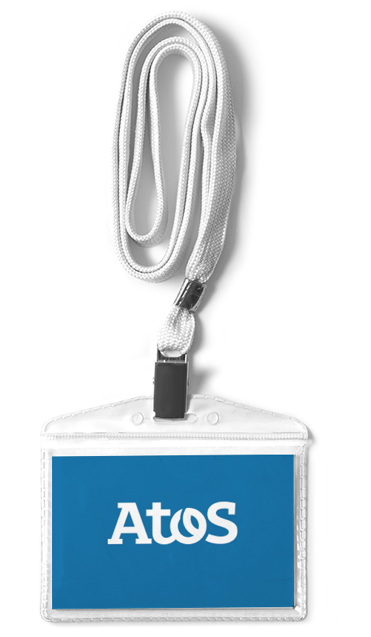 people – and counting – have been recognized for their contribution to our business in the space of a year.
of our people improved their health and wellbeing through Atos revitalized.com.
individual development plans put in place so everyone can make the most of their potential in a way that suits them.